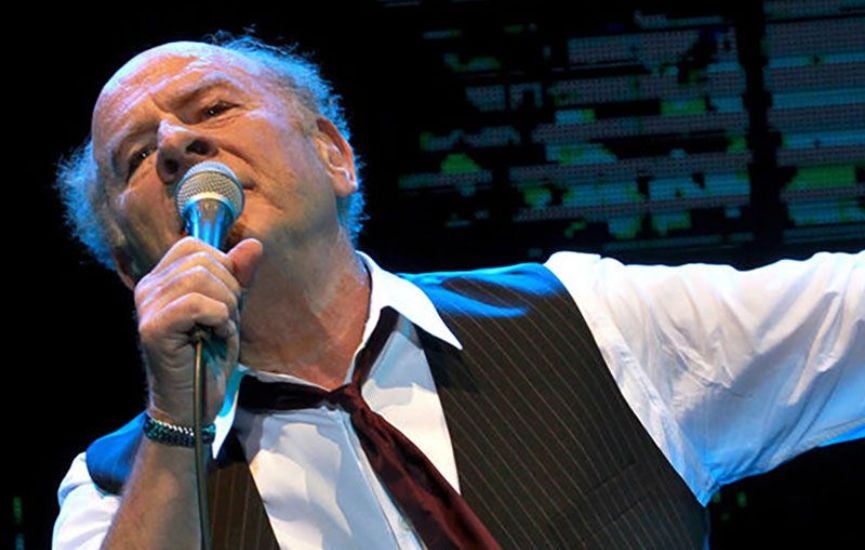 Art Garfunkel
In Close-Up
Date

Oct

14

, 2022

Event Starts

7:30 PM

Doors Open

6:30PM

Venue

Santander Performing Arts Center

On Sale

On Sale Now
Event Details
Although it has been over 40 years since Bridge Over Troubled Water was recorded, Art Garfunkel's image and signature vocal remain among the most instantly recognizable in popular music. His "beautiful countertenor," as Neil Strauss described Art's voice in The New York Times, is clear and resonant, surely one of the finest instruments in all of popular music, and a time-honored friend to a world of listeners.
The dialogue began for Art at age four, when his father brought home one of the first wire recorders. "That got me into music more than anything else," he recalls, "singing and being able to record it." Seven years later he was singing Everly Brothers songs at school talent shows with a partner, Paul Simon, from his Forest Hills neighborhood in Queens, New York. "Then rhythm 'n blues, rock 'n roll came along." He and Paul set their sights on the Brill Building. "We practiced in the basement so much that we got professional sounding. We made demos in Manhattan and knocked on all the doors of the record companies with our hearts in our throats." In 1957, 'Tom and Jerry' (as they were called then) landed a recording contract. Their first 45, "Hey, Schoolgirl" (which they wrote together) scored a moderate hit and they appeared on "American Bandstand" as high school seniors. "We got a quick education in the record business," Art recounts.
"But I left and went to college. I was the kid who was going to find some way to make a 'decent' living." He earned his Bachelor of Arts degree at Columbia College, majoring in Art History; later he earned his Masters degree in Mathematics at Columbia University. But he never stopped singing, and even recorded several solo singles (as 'Artie Garr') while in school. When he met up again with Simon in 1962 and they began to rehearse, the decision was clear to get back together as a duo.
They started performing as Simon & Garfunkel at the height of the folk music boom in late-1963, and within a year were signed to Columbia Records, who paired them with producer/engineer Roy Halee. Simon & Garfunkel maintained a tireless pace in the recording studio and on the road, reaching a wide and loyal international audience. From 1964 to 1970 they recorded a groundbreaking string of classic albums (Wednesday Morning 3 A.M., Sounds Of Silence, Parsley, Sage, Rosemary and Thyme, The Graduate, Bookends, and Bridge Over Troubled Water) and an equally impressive body of songs, many of which became pop standards, among them; "The Sound Of Silence," "Homeward Bound," "I Am a Rock," "Kathy's Song," "April Come She Will," "For Emily, Whenever I May Find Her," "At the Zoo," "A Hazy Shade of Winter," "America," "Scarborough Fair/Canticle," "Mrs. Robinson," "The Boxer," "Bridge Over Troubled Water," "Cecilia," "El Condor Pasa," and "My Little Town."
Simon & Garfunkel won five Grammy awards together, two in 1968 (Record of the Year and Best Contemporary Pop Performance/ Duo or Group for "Mrs. Robinson"); and three in 1970 (Record of the Year, Album of the Year, and Best Arrangement Accompanying Vocalists for "Bridge Over Troubled Water," which also won Song of the Year and Best Engineered Recording). In 1977, "Bridge Over Troubled Water" received the prestigious Britannia Award for "Best International Pop LP and Single, 1952-77," as voted by the music industry of Great Britain. In 1972, Simon & Garfunkel Greatest Hits was released, remaining on the charts for 131 weeks in the US and a staggering 179 weeks in the UK. The album has since sold 14 million units - the largest selling album of all time for a duo. In 1990, Paul and Art were inducted into the Rock and Roll Hall of Fame.
"They were fabulous years," Art remembers warmly. "I'll always be happy to say a little on behalf of the duo. I'm proud of singing those great songs. Now they teach Paul Simon songs in churches and schools as part of the curricula... it seems that part of good citizenship is the knowledge of the songs we did. How can I grasp that?"
Having already worked with director Mike Nichols on The Graduate soundtrack, Art went on to feature acting roles in Nichols' movies Catch-22 (1969) and Carnal Knowledge ('71), opposite Ann-Margret, Candice Bergen and Jack Nicholson. Art also garnered acclaim for his roles in films such as Nicholas Roeg's Bad Timing: A Sensual Obsession ('80) with Theresa Russell and Harvey Keitel, Good to Go ('86) and Jennifer Lynch's controversial film, Boxing Helena ('93).
Art Garfunkel's first solo album, Angel Clare, was released in 1973 to critical and commercial acclaim. The album contained the smash-hit Jimmy Webb penned tune "All I Know" and was produced by long time Simon & Garfunkel engineer and co-producer, Roy Halee. Halee also produced "Second Avenue," which became a hit single in 1974.
Breakaway, co-produced with Richard Perry was released in 1975 and contained the mega-hit "I Only Have Eyes For You." In addition to the title song, the album contained a treasure trove of hits including, "Looking For The Right One" (background vocals by David Crosby, Graham Nash and Steven Bishop), "Rag Doll," 99 Miles From LA," the ex-Beach Boy Bruce Johnston's "Disney Girls," as well as a reunion with Paul Simon on "My Little Town."
In 1976, Garfunkel recalls, "I went to Muscle Shoals, Alabama for my third album, Watermark (1977), an entire album of Jimmy Webb songs with the exception of Sam Cooke's timeless "What a Wonderful World," produced by Phil Ramone, with vocals by Art, Paul Simon and James Taylor.
"Bright Eyes," written and produced by Mike Batt and heavily featured in the animated film version of Watership Down, topped the UK charts in spring 1979. The single sold over a million copies. Fate for Breakfast was released in 1979 and included the hit single "Since I Don't Have You" featuring the brilliant Michael Brecker on tenor saxophone. The album reached #2 on the UK charts.
Group rates are available for this show for ticket purchases of 10 or more - to book your group outing today call our box office at 610-898-7201!