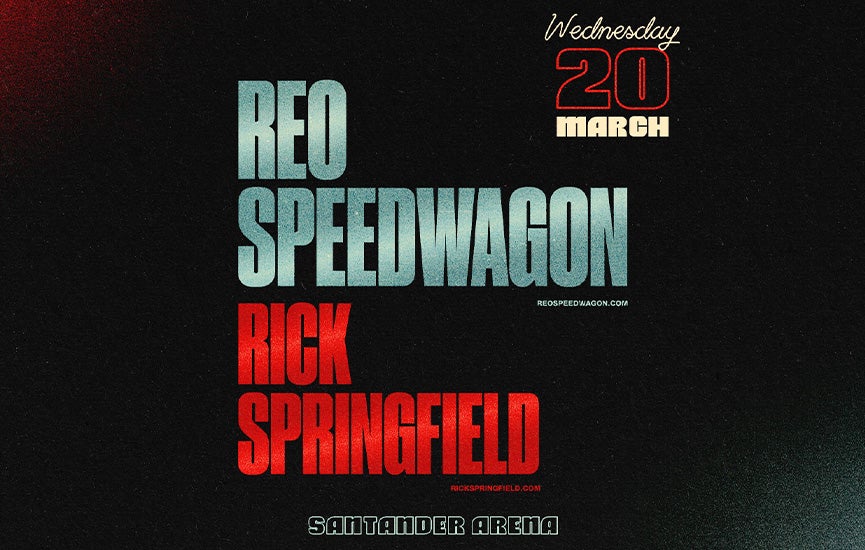 Pepper Entertainment
REO Speedwagon & Rick Springfield
with special guest Dauzat St. Marie
Date

Mar

20

, 2024

Event Starts

7:00 PM

Doors Open

6:00PM

Venue

Santander Arena

On Sale

On Sale Now
Event Details
REO Speedwagon:
REO Speedwagon (originally styled as R.E.O. Speedwagon) is an American rock band from Champaign, Illinois. Formed in 1967, the band cultivated a following during the 1970s and achieved significant commercial success throughout the 1980s.
Hi Infidelity (1980) contained four US Top 40 hits and is the group's best-selling album, with over ten million copies sold. Over the course of its career, the band has sold more than 40 million records and has charted thirteen Top 40 hits, including the number ones "Keep On Loving You" and "Can't Fight This Feeling". REO Speedwagon's mainstream popularity waned in the late 1980s, but the band remains a popular live act.
Rick Springfield:
A rocker with a flair for a hardened pop hook, Rick Springfield became an overnight sensation with "Jessie's Girl," a 1981 smash whose reign on the charts coincided with his buzzy role as Dr. Noah Drake on General Hospital. "Jessie's Girl" wasn't Springfield's first hit, either in America or his native Australia. "Speak to the Sky," a bright, bouncy piece of AM candy, brought him to the top of the charts in both countries in 1972 but instead of turning into a star, Springfield spent the next decade working hard, attempting different styles, following fashion, and honing his personal style. At the dawn of the '80s, he crafted a hybrid of album rock and radio-ready pop, a sound that was adjacent to power pop but designed for the airwaves and MTV. Springfield spent the first half of the '80s mining this vein, racking up a number of big hits -- "I've Done Everything for You,' "Don't Talk to Strangers," "Affair of the Heart," and "Love Somebody" among them -- before transitioning toward contemplative arena rock by the end of the decade. The evolution helped him sustain a career. Springfield continued to regularly deliver thoughtful, muscular rock records into the 2020s, occasionally adding afew modern flourishes to the production but always drawing from the same brawny melodic source that fueled his big hits.